Fused Forces
are the dynamic duo from Essex, codenamed Moriatti and Adsassin, who have been continuously pushing boundries in the dubstep underground with their productions. In just over 4 years their release number is peaking around the whopping 35 line, with no compromise in quality, as shown by their absolute banger just released on
Fent Plates
- Bunfire/Power Plant and their joints included in the
Mindstep
compilation. They've played with top steppas in some of the best clubs in London, had their portraits drawn by the infamous Monsta, messed around with fire extinguishers, and are talking about a US tour. They kicked it in the Mad-Lab to talk about their latest release, their inspirations, and animal fights. Big 'tings.
How did you guys get started with music?
Well, from a young age (1994) both of us listened to Jungle, and were never without our walkmans and pockets full of cassette tapes when out and about! We both joined the same secondary school aged 11 and were in the same class, so soon ended up as pals swapping favourite tapes and chatting about Jungle music everyday! The pop scene never really appealed to us, and most other kids at the time didn't even know what Jungle was! Mixing came about soon after, and in around 2004-5 we eventually started getting into producing.
What's your current setup?
We both have slightly different setups in each of our studios. But collectively we use Reason, Logic and Ableton to produce our tracks. We also have recording facilities for vocalists and MC's. We both have studio reference monitors running through a USB soundcard into a Apple Mac with various plug-in's & midi controllers. A recent addition to the studio has been a Focusrite Liquid Mix which we are enjoying getting to grips with.
What's the significance of the collective name- Fused Forces, and how did Moriatti and Adsassin translate into it?
The name came about impulsively, and spur of the moment as it goes! It originally came from us both recording a back 2 back Drum n Bass mix on minidisc back in about 99. When it came to writing on the label, Dan just said "We should call ourselves Fused Forces" and that was it! Skip forward a few years (when we started making beats together) and it was time to start properly pushing our music to people. We reminisced about the old minidisc and just went with that name - simple as that really! Our individual names 'Moriatti' & 'Adsassin' have no proper relevance to our collective name to be honest. They're Just names we were given by friends rather than picked by ourselves! So we just rolled with that... although we don't release music or promote under our solo names at all, it's all just pushed as Fused Forces.
What's been your greatest influence as musicians?
There's so many, from all sorts of places, key influences though to name a few... Our art teacher Phillip Diggle paid a big part in the way we look at music. And definitely contributed to us being involved in music production! He showed us how to interpret inspiration into art, and it's the same mechanism when it comes to making our music. He was a clever guy, but he loved a drop of the hard stuff in lesson time! Haha! Our roots originally lay in Jungle/DnB. And producers such as Ed Rush & Optical, Dillinja and the local Ram Records crew had a massive impact on us. As time passed we got into hip hop, then obviously into Grime and Dubstep with all the early producers such as Macabre Unit, Slaughter Mob, Wiley, Hindzy D, Wonder, Lewi White, Skream and Mark One all contributing to shape our sound.
Could you tell us more about the new Fentplates release?
This is a release we are really proud to be onboard with! The response and support has been amazing, so we would like to say thanks to everyone who has supported the release! Over the years, our production has taken various twists and turns but over the past 9 months it has naturally edged its way into the darker, deeper side of Dubstep that we are now pushing forward with. This Fentplates release documents this well, and is a prime example of what's to come from us in the future.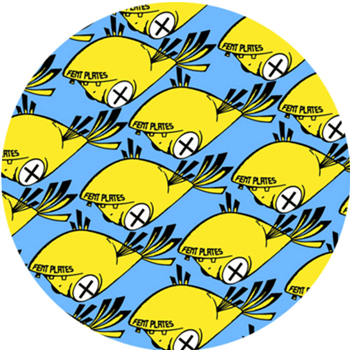 Fused Forces - Bunfire / Power Plant 12"
by
Fent Plates Records
What's the craziest thing that's happened during a DJ set?
There's a few that are definately best kept off the internet, hehe! Although letting off a fire extinguisher into the crowd and Moriatti MC'ing whilst seriously drunk are both up there with the craziest!
What would win in a fight: a bear or a large anaconda?
Haha the amount of conversations and debates we've had over things like this is incredible! After a think over a cuppa tea, gonna go with the bear! Wouldn't put it past the anaconda taking it though, is a 'tuff one that!
What are the plans for the future?
To continue making, releasing and playing music that we love, more releases in the pipeline planned this year, including some exciting remixes. Our album is ready to drop this year, and we also have a busy gig list for 2011, including a U.S tour possibly lined up. So we're hoping it's gonna be a fun year!
Big ups Fused forces for taking the time!
Cop their latest release - Bunfire/Power Plant - on Fentplates
Tumblr
Facebook
Twitter
Soundcloud